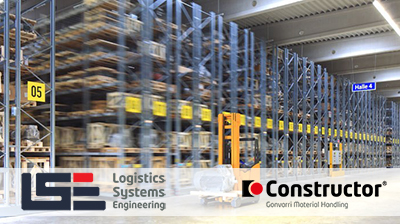 Constructor is one of Europe's leading forces in engineering and manufacturing of storage solutions, having helped some of the world's major brands and pioneering SMEs since 1856. They manufacture their product range across the first-class facilities strategically located in key markets of Romania, Russia, Germany, Sweden and Finland.
The Group is owned by Gonvarri Industries, a multi-national organisation operating in steel and aluminum transformation in auto, road safety, material handling and solar energy sectors with a global presence operating in 19 countries worldwide. This rich history and global presence is testament to the Group's commitment to providing ongoing service and support.
The range of solutions which will be offered in South Africa includes cutting-edge steel pallet racking and shelving systems, as well as storage machines and automatic systems.
Having access to the Constructor range of products allows Logistics Systems Engineering to engineer high quality tailored customer-oriented solutions to meet different customer needs across every industry.
The Constructor range will further enhance Logistics Systems Engineering' capability to deliver both small and large-scale projects across South Africa.
Brian Howson, Head of Export for Constructor, remarked "We are very pleased to partner up with Logistics Systems Engineering. We are confident that through this strategic alliance we will be able to extend our presence in a key market such as South Africa together with a reliable partner. Our customer values are aligned and we both strongly believe in prioritizing customer satisfaction, which can be achieved through our storage solutions."
Fred Albrecht, CEO of Logistics Systems Engineering, says: "We are proud to have partnered with a strong European brand with a rich history, unrivalled expertise and knowledge, providing leading storage solutions. The Constructor brand, renowned for quality and long-lasting storage solutions, is well-suited to Southern Africa's growing warehouse storage industry that spans numerous markets. Customer centricity and shared ethics, forms the cornerstone of this partnership".
Logistics Systems Engineering is a leading supplier of warehouse storage solutions across sub-Saharan Africa.
For more information about Logistics System Engineering, visit www.lsegroup.africa, email sales@lsegroup.co.za or call 0861 61 61 61.